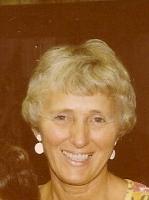 Mae R. Probst
Mae Rose Probst of Rush, NY went home to be with the Lord and her late husband of 51 years Stewie on February 25, 2017 at age 89.
Mae was born July 3, 1927 in Rochester, NY the daughter of the late Frederick and Leona Darling LeBoo. She is survived by her devoted daughter, Cathy (David) Mack; grandchildren, Carolyn (Brian) Simonelli, Daniel and Joel Lewis; great granddaughters, Sadie and Barbie Simonelli; sister, Ginny Relyea; many loving nieces, nephews and dear friends including her best friends, Betty Lou and Betty S. Mae was a nurse, taught sign language at the Eastman Kodak Co. and was an interpreter for the deaf in her community and at her church, Lima Baptist. Mae was a gifted poet, enjoyed singing, traveling and serving in her church, but she most treasured her time with family and friends.
Mae had a kind, gentle and giving spirit and strived to exemplify Christ's love in all she did. She always had ready her sweet smile, a big hug and words of encouragement for those she encountered. Mae was a woman of God who had great impact on the lives of those around her and leaves behind a legacy of faith.
A Memorial Service will be held Saturday, March 11, 2017 at 11 am at Lima Baptist Church with a luncheon to follow. Donations in Mae's honor may be made to Wycliffe, P.O. Box 628200, Orlando, FL 32862-8200. This organization which helps people around the world translate the Bible into their own languages, was one that Mae along with her late husband Stu, loved and supported for many years. To light a candle in remembrance of Mae, please visit www.mertonkaysfuneralhome.com