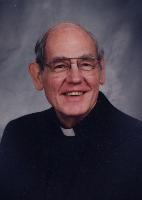 Otto J. Vogt
The Reverend Father Otto J. Vogt, a priest of the Diocese of Rochester for nearly 67 years, died Saturday, April 29, 2017. He was 91 years old.
Father Vogt was born October 13, 1925 in Wayland, New York, the son of Frank and Anna (Shultz) Vogt. He attended Saint Joseph Church in Wayland, now part of the Holy Family Catholic Community in that region, and was a student at the former parish school. He later studied at Saint Andrew's and Saint Bernard's seminaries and was ordained a priest of the Diocese on June 3, 1950, by Bishop James E. Kearney at the Cathedral of the Sacred Heart.
In his long ministry as a priest, he served as parochial vicar at Saint Boniface, Rochester (1950-54); Immaculate Conception, Ithaca (1954-60); Holy Cross, Ovid, and Sacred Heart, Romulus (1960); Saint Patrick, Elmira (1960-67); and Saint Mary, Dansville (1967-68). Father Vogt was pastor of Saint Joachim, Canisteo, and Saint Mary, Rexville, from 1968-75, and of Saint Paul of the Cross, Honeoye Falls, from 1975 until he achieved senior status in 1995. While at Saint Paul of the Cross he also served temporary administrator of Saint Catherine of Siena, Mendon, in 1986.
Among his many ministries throughout the Diocese, Father Vogt served as chaplain at Elmira College; served as chaplain for the Honeoye Falls fire and ambulance department; taught sacramental theology and medical ethics at Elmira's Saint Joseph School of Nursing and Hornell's Saint James Mercy Hospital, respectively; directed a weekly radio broadcast; served in prison ministry; served as a judge of the inter-diocesan tribunal of the Province of New York; and offered Mass at the Rochester Psychiatric Center.
In his senior years, he resided at Our Lady of Lourdes, Rochester, Saint Thomas More, Rochester, and finally the Sisters of Saint Joseph Motherhouse, Pittsford.
Father was predeceased by his parents; brother and sister-in-law, Justin and Marianna Vogt and his sister, Delores. He is survived by his sister, Lois Ann Vogt, Webster, NY; nieces and nephews, James (Ann) Vogt, Clermont, FL; Julie (Joseph) Morrissey, Pittsford, NY; Joseph (Sherry) Vogt, Suarita, AZ; Joanne (Michael) Kelly, Tully, NY; Mary Jeanne (Keith) Lundy, Spencerport, NY and Annette (Michael) Battaglia, Fairport, NY; great nieces, nephews, many cousins; Priests, Deacons and Sisters of St. Joseph, along with many friends near and far.
Calling hours for Father Vogt will be at the Sisters of Saint Joseph Motherhouse, 150 French Road, Rochester, on Thursday May 4, 2017, from 2:00 pm – 4:00 pm, with Evening Prayer at 4:00 pm, led by Bishop Salvatore R. Matano, Bishop of Rochester.
Father Vogt will lie in state in Saint Paul of the Cross Church, 31 Monroe Street, Honeoye Falls, New York, on Friday, May 5, 2017, from 9:00 am – 10:30 am, before the 10:30 am Mass of Christian Burial, with Bishop Matthew H. Clark, Bishop Emeritus, principal celebrant. Following the Funeral Mass, Father Vogt will be interred at Saint Paul of the Cross Cemetery, W. Main Street, Honeoye Falls. In lieu of flowers, donations may be made to the Sister's of Saint Joseph Vocation Fund or to the Roman Catholic Diocese of Rochester Seminarian Fund.