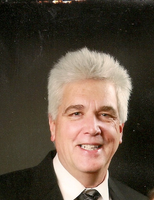 Ronald W. Stephens
Ronald W. Stephens of Lima, NY age 62, passed away peacefully at home on July 20, 2017, with his family by his side. He fought a long battle with cancer.
Born in Endicott, NY on September 3, 1954 to Zerland "Red" and Joyce E. Saddlemire Stephens, Ron was always ambitious. He graduated from Broome Community College and RIT, followed by a long career in software engineering for Eastman Kodak and Harris Corporation.
A talented and capable, yet very humble man, Ron worked as hard as he played. He was a devoted family man, spending time with his two sons as scout leader, instilling integrity and strength to young minds. A loyal friend to everyone who knew him, Ron was always organizing activities and gatherings to enjoy life and his love of the outdoors. Bringing friends and family together was important to Ron. After work he would welcome all water skiers to the pond in the summer months, spending the winter months participating in indoor activities, such as racquet ball and bowling. He and his wife enjoyed visiting wineries and breweries in the Fingerlakes region with their friends, sharing great laughs with anyone who had the honor of spending time with him. Ron truly was a great soul who strived to make his loved ones happy.
Ron is survived by his wife Sara (Drake); sons, Jeremy (Meralys) and Adam (Jaclyn); four grandchildren, Alexander, Natalie, Victoria, and Addison; mother, Joyce; sister Lynda (David) Pallone. Ron will also be missed by several nieces, nephews, longtime friends including sister-in-law Sheila (Drake) and Thomas McDonald and his best friend Andy (Carter) Anderson and Toby, his most faithful companion, grounds keeper of the JARS Pond Resort, and co-pilot of the tractor and golf cart, will forever miss his beloved master.
Friends may call Friday, August 4th from 2-4 pm and 6-9 pm at the Merton H. Kays Funeral Home, Inc., 59 Monroe Street, Honeoye Falls. Family and close friends are invited to Ron's home for a Memorial Service followed by a Celebration of his life luncheon on Saturday, August 5th from 11 am to 4 pm. In lieu of flowers, please give a donation to the Wilmot Cancer Center (specify melanoma) or to a charity of one's choice. To light a candle or to leave a remembrance of Ron, please visit www.mertonkaysfuneralhome.com