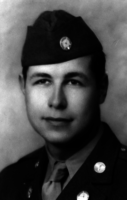 Julian Alexander
Julian (Alex) Alexander of Irondequoit died Wednesday, July 19, 2017 at age 94. He was predeceased by his sisters, Sarah Sternberger and Bernice Siegel and daughter-in-law Carrie Alexander. He is survived by his wife of 68 years, Virginia (Jinny); daughters Barbara Alexander Shopiro and Lynne (William) VanArsdale; sons, David (Susan), and Jeff. Grandchildren are Regina (Liza Mattison) Shopiro, Alexander (Jennifer) Shopiro, Rachel (Ashley) Shopiro, Marcus, Lindsey, Johnny, Scott VanArsdale, Lisa VanArsdale, Brooke VanArsdale, Brittany, Courtney; great grandchildren, Dominic Reitano, Damian, Isabella, Theodora Shopiro, Rebecca Shopiro.
Dr. Alexander was a member of Temple B'rith Kodesh where he sang in the choir for more than 20 years. He served as a captain in the U.S. Air Corp. Graduating from the University of Rochester Medical School in 1949, he was a physician at Eastman Kodak for over 3 decades. He made significant contributions to the medical community in our region as well as to the field of ergonomics. He was a Co-President of the PTA, a Boy Scout leader, and he volunteered at WXXI where he was a tour guide. After retiring from medicine, Alex helped his wife Jinny sell her "Jinny-sans" at craft shows. He was an avid collector of model trains and stamps. Most of all, he greatly enjoyed spending time with his family.
A memorial service will be held Tuesday, August 15, 2017, at Temple B'rith Kodesh, Elmwood Avenue in Rochester in the small chapel from 4:00 pm with a reception there to follow. In lieu of flowers, memorials to the Al Siegel Center in Rochester or to the charity of your choice would be most appreciated.
You can post a remembrance of Julian or message to his loved ones at www.mertonkaysfuneralhome.com