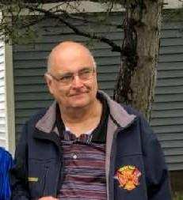 Craig H. Whitehead
Craig H. Whitehead April 16, 1956 to November 30, 2017. He is survived by wife Faith; children, Robert G. Whitehead and Sarah J. Whitehead; granddaughters, Penelope and Aria Myers. H was predeceased by his mother and father Robert and Marion Harvey Whitehead. Craig is also survived by brothers-in-law George (Linda), Mark and Dan; his niece KC, and his many friends.
Craig was a great husband and father. He was a devoted to his family. His granddaughters were the apple of his eye. He gave them a love of trains and was always there to rock them and give them treats. Craig was a car guy (Ford) and he loved to watch racing and Ice Road Truckers with the kids. Craig served in the Honeoye Falls Volunteer Fire Department for over30years.
Our family would like to thank Benincasa and all the volunteers. They not only took care of Craig but all of us, his family. We cannot thank them enough for all the love and care they have given our family. Truly Earth Angels.
Friends may call Monday, 4-7 pm at the Merton H. Kays Funeral Home, Inc. 59 Monroe Street, Honeoye Falls where Services will follow calling at 7 pm. Burial, N. Bloomfield Cemetery. In lieu of flowers, please make donations to Benincasa Hospice Care. benincasainc.org