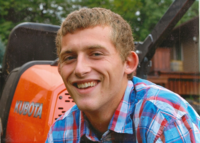 Branden Mitchell Boyd Curtis
Branden Mitchell Boyd Curtis, "B" of Honeoye, NY was born on March 22, 1995 in Canandaigua, NY and he passed away surrounded by his entire family after a tragic motor vehicle accident on December 17, 2017 at Strong Memorial Hospital in Rochester. He is survived by his parents, Todd and Tanya Curtis; his brother, Dylan (Bridget) Carrier; sisters, Samantha Andrews (Michael Potts) and Ciara Curtis; nieces, Ava Rae and Sophia Bernice and nephew Colton William; his "Bumpa" Mitchell and "Nana" Audrey Carrier; great grandparents, James and Bernice Worden; uncle and aunt, Nick and Nicole Carrier; cousins, Cadence and Tucker; best friends, Brett Hodgeman and Allan Smith and the two loves of his life, his girlfriend Courtney Starken and his beloved dog Denali.
Please join us to celebrate this amazing young man on Saturday, Dec. 30, 2017 at 5 pm at Line Drive Baseball School on Howcroft Road in Honeoye. In lieu of flowers, please donate to https://brightstargsd.org Bright Star German Shepard Rescue. To light a candle in remembrance of "B", please visit www.mertonkaysfuneralhome.com
Live your life that the fear of death can never enter your heart. Trouble no one about his religion. Respect others in their views and demand that they respect yours. Love your life, perfect your life, beautify all things in your life. Seek to make your life long and of service to your people. Prepare a noble death song for the day when you go over the great divide. Always give a word or sign of salute when meeting or passing a friend, or even a stranger, if in a lonely place. Show respect to all people, but grovel to none. When you rise in the morning, give thanks for the light, for your life, for your strength. Give thanks for your food and for the joy of living. If you see no reason to give thanks, the fault lies in yourself. Touch not the poisonous firewater that makes wise ones turn to fools and robs the spirit of its vision. When your time comes to die, be not like those whose hearts are filled with fear of death, so that when their time comes they weep and pray for a little more time to live their lives over again in a different way. Sing your death song, and die like a hero going home.
(Do not delete this line. It does not print. Text that is to appear on web must be entered after this line)«