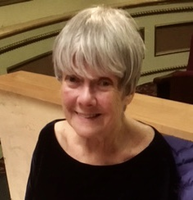 Nancy R. Scannell
Nancy Reams Scannell, 70, passed away peacefully on December 19th at her home, surrounded by the love of her family. Nancy dedicated her life to her children, guardian children and grandchildren. She had an incredible ability to recognize and nurture the beauty in the people, animals and places she loved.
Nancy was a cancer survivor of 32 years. Strong, positive and persistent she was always there for her family and close friends regardless of her own challenges. Quick to share her kind smile and caring words, Nancy's loving spirit was relentless. Simply put, she chose life and love every day. In everything she did she was a "woman for others".
If home for Nancy was where her family was, a close second was the ocean. She grew up and started her family with her high school sweetheart in the Boston area. Nancy graduated from Monsignor Ryan Memorial High School, worked at Prudential Insurance and the Franklin Park Zoo before answering her calling to raise 3 generations of children.
Preceded by father, George, mother Lillian, and brothers William and George Reams.
She is survived by her husband of 48 years, Jim; daughters Jessica Scannell and Jocelyn (Edward) Evans, grandsons, James, Jayden and Jordan Evans and granddaughter Zora Rooks; sister Linda Reams (Ahmed Berikaa) and niece Fatmah and nephew, Mahmoud Berikaa; guardian sons Jessie and Dominique Grisham, special friend and caregiver Terra Smiley; and last, but not least Gracie, her shadow.
Friends may call TODAY, Thursday, December 21, 2017 from 4-8 pm at the Merton H. Kays Funeral Home, Inc. 59 Monroe St. Honeoye Falls. Her Mass of Christian Burial will be held Friday, December 22, 2017 at 2 pm at St. Paul of the Cross Church, 37 Monroe St. Honeoye Falls. Private burial, Honeoye Falls Cemetery.
In lieu of flowers, donations can be made in Nancy's honor to the Pluta Cancer Infusion Center and the URMC Palliative Care Program. To light a candle in remembrance of Nancy, please visit www.mertonkaysfuneralhome.com
It's hard to know where to start in remembering Mom, Nancy, Nana, Nan
I was reminded last night at the wake that we all have our own memories of her,
her relationship with each of us unique
My family and I thank you for being here today and look forward to hearing your Nan stories at our childhood home, now my sister and her family's, at 37 York St, after this mass.
I want to celebrate the woman who raised me and my sister Jocelyn,
molding us into the women we are today,
the woman who chose my dad, over and over again, from the age of 16 to her 70th year,
the woman who planted the seeds of kindness, compassion and curiosity in each of one of her grandchildren Jordan, Zora, Jayden and James
the woman who quietly, consistently and generously shared her love with us all.
Born on December 1st, 1947 to Lillian and George Reams, oldest daughter of four, she was incredibly close to her sister Linda and brothers George and Billy. From childhood Nancy was a little always just a little bit different. She preferred classical music over rock and roll, hours walking along the ocean shore to talking on the phone. She would rather eat cold leftover Italian or Chinese food than cereal for breakfast, and while others may have taken their dog out for a walk, Nancy walked her rabbit, Whitey, on a leash through the gritty streets of Dorchester, MA in the 1950s. The irony of this might be lost of some of you not from Massachusetts.
For many years Mom and her family lived by, or more often than not, in, the ocean. They would spend hours combing the beach for shells, fishing, and digging for clams. On Cape Cod, where as a child her family vacationed less than a mile from where my dad's family vacationed, my grandfather would teach his children about the water and start weird and memorable traditions like loading everyone in the car to go frog hunting at night. Mom learned to track the tide and wait for the sandbar to appear. Her respect and love of the ocean and all its wonders were passed down to my sister and I and then our children. It seemed as if there was nothing Nana didn't know about the sea.
Mom went to Monsignor Ryan Memorial high school (MRM), a girl's catholic school in the Boston area. There she developed some close friends, stayed on the good side of the nuns and hated the uniforms. It was at a MRM/ Boston College High school dance, in her sophmore year, that she met her life partner, Jim. The story goes that one of the Jesuits had to tell them to make
room for the Holy Ghost during a slow dance. If any of you have seen the photos, you know mom was a knock out, and I am still not sure that dad believes his luck.
There are many stories I remember of mom and dad as a young couple, but the one I love repeating is how mom and dad took dad's best friend from 8th grade, Joe, and the gorgeous woman who had struck his fancy, Barbara, on their first date, ice skating. It was my dad's idea and as it turned out neither Joe nor Nancy were natural born skaters, and spent most of the evening together, hugging the boards, while Jim and Barbara spend the night on the ice. That was the beginning of a friendship between the four of them that would turn into family, with Uncle Joe and Aunty Barbara's son's Mark and David, becoming Joce and my brothers and our children's uncles.
Mom had many gifts which she humbly shared with us. She was a naturally talented artist and found beauty in everything around her from a sunset on the beach in East Sandwich, to the music of YoYo Ma to the art of her grandchildren. She saw possibility and good in people, and spent hours volunteering to positively impact others from crisis hot lines, to the cancer center, from the local zoo to her children's schools.
She was a deliciously skilled culinarian, nourishing our family with meals that at times maybe Joce and I didn't appreciate… we were typical kids who would sometimes complain about eating candied rose petals or Peking duck instead of getting to have fast food, or prep packed dinners like some of our friends. Through her example, and patience, I learned the joy that comes from feeding people. Mom taught me that preparing a good meal is both an art and an act of love.
Mom had a wonderfully dry sense of humor, often quietly, and unexpectedly saying just the right thing at just the right time to have you laughing hysterically. For more on this please see my Aunty Linda or Aunty Barbara, they have chapters funny Nancy stories, most of which didn't make the cut for this venue.
For a woman whose personal athletic experience did not extend past 8th grade half-court basketball- she became the ultimate fan - missing only one game in 8 years of Jocelyn's soccer career throughout high school and college. Between Jim, James, Jayden and Jordan she became a diehard hockey fan who might not fully understand the finer points of icing but would know exactly what each of her grandsons done on the ice.
She shuttled generations of children to lessons and practices, games and tournaments. Somehow, we always made it on time with all of our varied equipment. She sat through hours of lessons and loved watching us all. She reveled in it really. Just this October she was able to attend Zora's riding lessons and sat, bundled up in blankets, with a look of amazement and pride saying to me "will you just look at her! She's incredible."
Everything we did was important to her, and if we were recognized for our efforts, as we would say in Brooklyn Fuhgeddaboutit. One of the most mortifying traits of our mom, now one of my all-time favorites, was what I like to call the checkout brag… We would be at Wegmans in the line and she would turn to us, and say, at a volume the cashier, and those lucky enough to be in line behind us were sure to hear "So, you just finished your second semester at University of Wisconsin Madison". Or in my sister's case, "so you were chosen for the Olympic Development soccer program as a high school sophomore" As a teenager it was complete and utter embarrassment, now, as moms, we totally get it.
Without a doubt Nan's super power was nurturing and caring for her children and there was no greater love, no more passionate project than her grandchildren. She instilled in each of us an appreciation of nature and a good story, fundamental kindness and respect for others, and the confidence that you get from being well cared for and unconditionally loved. She loved without judgement - there were never any strings attached. She was patient and forgiving. Her love was always there, no matter what you did or what you said.
As Jocelyn and I grew older mom became more than a mom to us both. And for Joce, our Mom was her best friend. Not only does Jocelyn share a striking resemblance to a young Nancy, but she has full adopted her fierce motherly love and her unwavering resilience in the face of any and all of life's challenges. Like our mom, if you have Jocelyn's love, you have her loyalty for life.
In my own life, it took me some time to understand and fully appreciate my mom. It wasn't until I became a mother myself, and reflected back on who she chose to be every single day that I got it.
I was 15 when my mom was first diagnosed with breast cancer, Joce was 11. Over the next thirty-two years she would fight back this disease four more times with a grace and strength,
unparalleled. She was committed to living life, taking pure delight in her family, with fullness and joy until the day she was called home.
Mom taught us by example, or through stories. She never held court or lectured her children, but patiently, gently, gracefully showed us how to be. As we celebrate Nancy's life and mourn our loss, I know she wouldn't be prescriptive but directional, reminding us to meet friends and strangers alike with kindness and compassion, to always, in every circumstance chose love,
and to know in our hearts that she will never leave us, but rather is right here, in the ocean waves, the bird's song and the gentle wind, supporting each of us every step of the way.