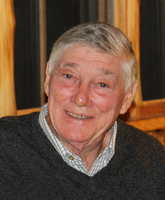 Charles Acker Smith
Charles Acker Smith of Lakeville, NY, passed peacefully December 31, 2017 with family by his side. He was age 88. Acker was born September 16, 1929 in Rochester, NY the son of the late Charles and Elizabeth Acker Smith. He was predeceased by his adored daughter Kimberly Smith Freund.
Survived by his loving wife of 60 years, Rosalind; son, Charles (Deborah); daughter, Pamela Smith Perkins (Craig); sister, Bardee Nichols; son-in-law, Gregory Freund; grandchildren, Tatiana and Alexis Freund, Matthew Stromecki and Ariana Smith; along with many cherished nieces and nephews.
Acker attended Livonia High School and upon graduation received a degree from Rochester Institute of Technology in Retailing. C. Acker owned C. Acker Smith Lumber in Lakeville, NY from 1954-1992 when his son took over the family business. Acker served on many board of directors, including Security Trust Bank and Livonia Avon & Lakeville Railroad; he was past Chief of the Lakeville Volunteer Fire Department and a long standing member of the Livonia Masonic Lodge.
Friends may call Friday, January 12, 2018 from 4-7 pm at the Kevin W. Dougherty Funeral Home, Inc. 21 Big Tree Street, Livonia. A Memorial Service will be held Saturday, January 13, 2018 at 11 am at the Lakeville United Church of Christ, 5687 Big Tree Rd. In lieu of flowers, contributions may be made to the Donor Relations Department Shriner's Hospital for Children, 2900 N. Rocky Point Drive, Tampa, FL, 33607 donorrelations@shrinenet.org