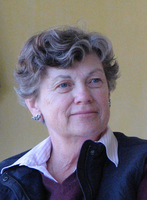 Lynn L. Willard
Lynn Striening Lang Willard left us today, January 10, 2018, after a four-year battle with pancreatic cancer. She embraced the fullness of life and never allowed her disease to define her.
Born in Ballston Spa, New York, on November 26, 1941, she was reared on her family's dairy farm, learning the responsibilities and values imposed by country life.
She attended nursing school at the University of Rochester, achieving her RN in 1962, and met her future husband during that time. They married shortly after her graduation, moving to Charleston, South Carolina, where she worked in the Intensive Care Unit of the Medical College hospital.
With the birth of their first son, Lynn's family became her life-long profession. She was a devoted and stalwart wife, a loving, caring mother and doting grandmother.
An excellent cook, she spurned all-day epicurean extravaganzas in favor of "Griswold gourmet delights," which she whipped up in 20 minutes using her mother's old cast iron skillet. She was a master of seasoning, and her creations would make a sous chef drool.
Baking cookies and pies with her granddaughters was a highlight of many of her days with them. Other times, she planned special outings aimed at sharing bits of her wisdom and experience, bequeathing her love of nature and the great outdoors. The girls would return from their excursions with bunches of wildflowers, feathers, pinecones and other treasures gathered along the way.
An avid photographer of the life around her, she captured thousands of images on her iPad as she went about daily activities. Favorite subjects were dawn scenes through her bedroom windows, the countryside wherever she was, and, of course, her five granddaughters.
Lynn was a collector of "stuff." Everything from antique china teacups to full sets of dishes used lovingly for any occasion, to old glass, artifacts from her growing-up farm, turkey feathers and antler sheds from her own country property, paintings by friends, artwork by children and granddaughters. Tasteful arrangements of these adorned every wall, nook and tabletop, radiating her elegant touch.
She loved the out-of-doors and spent happy hours mowing her rolling country lawn and tending her flower gardens populated by transplants from her family's homestead, from friends and from the places she lived over the years. Her motto was "Bloom where you are planted." In 1998, she joined the Lakeland Rovers, a hiking group started by Canandaigua friends. She seldom missed a hike and felt privileged to view many secluded and lovely wonders of the Finger Lakes region, unseen by those of us who frequent the roads more traveled.
She was a faithful, compassionate friend, and used e-mail and Facebook to stay in touch, finding to her delight, that she was able to rediscover and reconnect to a number of friends and relatives with whom she had lost contact. But she didn't forget her past. She had a special gift for crafting a heartfelt note, penning these in the old fashioned way, with ink and paper, in her flowing, left-handed script. Her tender messages have touched many of us.
A tribute from a long-time friend describes her best:
"Lynn, you are the most softly different person we know. Being with you makes us feel special. You notice the smallest things and take pleasure in each, like they are all new discoveries. Not ever dwelling on yourself, you've strolled through life with courage and care. Lynn, we'll never find another friend as unique as you…"
She is survived by Charles, her husband of 55 years, by three children: Brad (Roxanne), Doug (Brenda) and Marylee George (John-Alistair), and five granddaughters: Rachel and Amelia Willard, Emily and Sarah Willard, and Simone George, and by her brother Jan Lang (Barbara).
A memorial service will be held at Mountain Rise United Church of Christ, 2 Mountain Rise, Fairport, New York, at 3:00 pm on Sunday, January 14. A reception will follow, in lieu of calling hours.
Instead of flowers, donations can be made to the James P. Wilmot Cancer Institute Patient Needs Fund, the mission funds of Mountain Rise UCC or Mendon Presbyterian Church, or charity of choice. www.mertonhkaysfhinc@rochester.rr.com