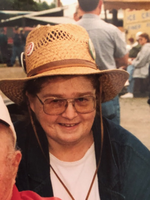 Flora E. Burton
Flora Elizabeth Burton, "Sis", passed on Easter Sunday, April 1, 2018 at age 79. Born the daughter of the late Asa and Flora Jane McNair Burton on January 14, 1939 in Honeoye Falls, NY. She was predeceased by her nephew Rodney Jones along with her parents. She was active in the Honeoye Falls United Methodist Church; was a 30 year plus member of the Honeoye Falls Fire Department Ladies Auxiliary; worked as church secretary at St. Paul of the Cross and St. John's Episcopal Churches. Sis was active in CROP Walk from 1988-2006 and served as organizing chairperson for several of those years. For many years she knitted lap robes, shawls and beanie caps which were given to several organizations in the area.
She is survived by her siblings, Sidney (Nancy Hershey) Burton, Kathy (Bob) Wilkins, Asa A. (Linda) Burton; nieces Amy Lynn (Tracy Dean) Dunbar, Tracy Anne (David Preston) Jones; nephews, Tristan (Aprille Sweeting) Burton, and Talisin (Megan Vandenberg) Burton; grandnieces and grandnephews and great grand
Family and Friends may gather to remember Sis at the St. John's Episcopal Church, 11 Episcopal Ave. Honeoye Falls, NY 14472 where services will be held Friday, April 13, at 10 am. Burial, Honeoye Falls Cemetery. Reception, HF Fire Department. "Anyone wishing to express their interest in a tangible way may give a gift of money to the Altar Guild of St. John's Episcopal, to add to the already established fund to provide flowers and plants to be used either inside the church or to enhance the church grounds" (Sis).