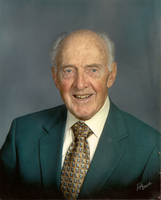 William V. Gaffney
William V. Gaffney "Bill" of Rush, NY died January 16, 2019 at age 95. Bill was predeceased by his wife of 57 years, Bette McCabe Gaffney. He is survived by his 3 children, Daniel (Roberta) of Palm Desert, California, Thomas (Pam) of Ulster Park, NY, and Colleen (Bruce) Green of Rush. 6 grandchildren, Maureen Gessel, Meaghan Howe, Michael Gaffney, Stephen Gaffney, Melissa and Dallas Green; 3 great grandchildren, Brady and Logan Gessel and Betsy Gaffney-Howe; 3 siblings, James (Gloria), John (Carolyn) and Monica Carey; several nieces and nephews.
Bill was born on August 19, 1923 in Rush, NY to Bart and Mary Gaffney. He graduated from Rush High School and attended Cornell University until drafted into the US Army in WW II where he attained the rank of Captain. While serving in the 12th Armored Division in Europe, he received several combat awards, including the Silver Star for "Gallantry in Action." Bill was a Kodak retiree of 46 years, 25 of those year were spent as a financial manager of a highly classified photography satellite program which has only recently been declassified. He also served as the President of the 2400 member Kodak Management Club. He was a lifelong resident of Rush and as a life member of the Stevens Connor American Legion Post #1330 where he served as past Commander for 5 terms and was named the Monroe County Legionnaire of the Year in 2001-2002. He received the National Commander Membership Award and the Monroe County Distinguished Service Award. Bill was also a member of the Rice-Hallick VFW Post #5465.
Bill was an avid golfer who thoroughly enjoyed the camaraderie's of the members at Thunder Ridge CC and Locust Hill CC. He was an effective advocate relating to several projects such as: against the Iraq War; unequal town property taxes; ill-advised building projects; ill-advised move of town center as well as getting admission of the United States Flag in the obituaries for free with the Democrat and Chronicle.
Friends may call Thursday, January 24, 2019 from 4-7 pm at the Merton H. Kays Funeral Home, Inc. 59 Monroe Street, Honeoye Falls. His Mass of Christian Burial will be celebrated at St. Marianne Cope Parish in St. Joseph's Church, Rush, NY on Friday at 10:30 am. Burial with Military Honors at Pine Hill Cemetery. Those wishing in lieu of flowers memorials may be made to the McQuaid Jesuits. To light a candle in remembrance of Bill, please visit www.mertonkaysfuneralhome.com