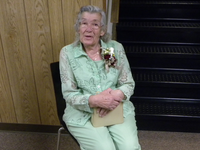 Anna E. Werner
Anna E. Werner age 81 of Rush, NY died Thursday, February 21, 2019 at Highland Hospital. Anna was born the daughter of the late Frederick and Henrietta Sell Garling on February 27, 1937 in Pittsford, NY. Anna last worked on the family farm stand in Rush, Werner Farm Stand. She was predeceased by her husband, John; brother Kenneth and sister Eileen.
Anna is survived by her children, Stephen (Denise), Alan (Lisa), Jeffrey (Susan) and Cynthia (Roger) Semmel; grandchildren, Emily, Eric (Holly), Cassie (Evan) Graziano, William (Carolina Rocha), Nicholas, Riley, Cole, Teagan and Brandon; sister-in-law, Suzanne Garling. Several nieces and nephews.
Friends may call Tuesday, February 26, 2019 from 4-8 pm at the Merton H. Kays Funeral Home, Inc. 59 Monroe Street, Honeoye Falls. Funeral Service 11 am Wednesday, February 27, 2019 at the Lutheran Church of Epiphany, 6050 East Avon-Lima Road, Avon, NY. Memorials in her name may be directed to the Rush Volunteer Ambulance Fund, 1971 Rush-Mendon Road, Rush, NY 14543.