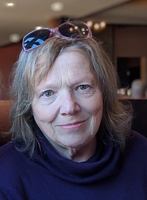 Ann Elizabeth Woolston
Ann Elizabeth Woolston of Rochester, NY passed away peacefully on September 30, 2019 after a brief illness. She was predeceased by her parents, Ken and Doris Cook Woolston and she is survived by her sisters: twin Susan (Raymond) Pettis, Jane Woolston and Joan King (Jim Bradford); nephews, Tom (Letty) King, Brian (Nadja) King, and Michael (Tiffany) King; several great nephews, nieces and cousins. Ann will be missed by loving friends from all over the world for her kindness, unselfishness and the passion she brought to all she did. All who knew Ann are united in their love for her and for the beautiful sense of community she created.
Ann grew up in Honeoye Falls and had a 28 year career in Washington, DC including 10 years at the White House. She returned to Rochester and devoted herself to the care of her mother. Most recently Ann was a dedicated volunteer for the Habitat for Humanity.
Family and friends are invited to St. Paul of the Cross Church, 37 Monroe Street, Honeoye Falls on Monday, October 7, 2019 at 10 am for her Funeral Mass, followed by a joyous celebration of Ann's life. In lieu of flowers, those wishing may make donations in Ann's memory to the Flower City Habitat for Humanity, 755 Culver Road, Rochester, NY 14609. To leave a condolence, please visit www.mertonkaysfuneralhome.com