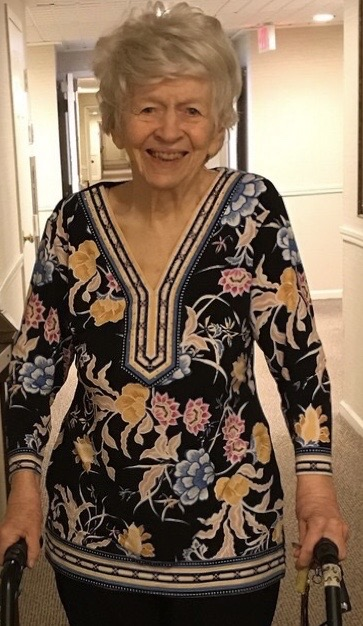 Obituary of Beverly Ann Powers
Rochester NY "Powerhouse" Beverly Ann Powers Navarro, age 89, Brighton NY, Honeoye Falls NY, Auburn NY, Carthage NY, went to be with her Lord, on January 30th, 2020. Predeceased by her parents Joseph and Theadosha (Koscelny) Powers (Pasneski), and her only sister Marie (Gerald) Haefner. She is survived by her indomitable six (6) children; Jeanine Navarro Richardson (Honeoye Falls NY) , Carol (Daniel) Adams (Burnet TX), Noelle (Sharon Vuono) Navarro (Columbia MD), Kathryn Navarro (Gates NY), Daniel (Marie) Navarro (Kansas City MO), and Diane (Steve Gates) Navarro (Chili NY), twelve (12) amazing grandchildren; Joseph Richardson (Auburn NY), Thomas Solich (Haiku HI), and Ryan (Julie) Solich (Alberquerque NM), Moses Cohen (Salisbury MD) and James Cohen (Merritt Isl Fl), Nate, Daniel, Kristie, and David DeHond (Rochester NY), Lina, Siena and Jenna Navarro (KC MO), and two (2) delightful great grandchildren; Joseph Navarro Richardson and Jaina DeHond. As well as many nieces, nephews, cousins and loved ones. She graduated with honors in 1949 from Nazareth academy, Rochester NY. She received musical scholarship from the Eastman school of music, and studied there from 1944-48. Her father declined her Eastman scholarship, as he said she "needed a husband not a musician". Later she took summer classes while her kids spent their summers at Camp Mohawk with their father. She received acclaim for her pianist abilities, playing concerts first in Eastman's Kilbourn Hall and then in various venues in upstate NY. While in HS, she was encouraged to become a nun, but after six months in the St Joseph's convent, she withdrew to attend SUNY Brockport. There she received her BA in General Education from teachers college 1954. At Brockport she meant and married Dan Navarro (Divorced 1975; He Died 10-16), who was a PE major. They moved to Carthage NY to start their teaching career. All six children were born while the family resided in Carthage. She taught (1963-1971) Music, Math, Art and General Education at all levels in Carthage NY. Where she directed for many years the high school plays. She has earned her master degree certification in Music (1977), Kindergarten (1954), elementary Grades 1-6 Ed (1954) Math grades 7-12 (1970), and Public Administration, from classes taken at Eastman School of Music, Syracuse University, SUNY at Potsdam and SUNY at Brockport. She loved playing bridge, and was president of the bridge club in Carthage NY, for several years. An interesting fact, was the first JRECK sub bus, (named after teachers Jerry, Ron, Ellie, Carl and Keith), was refurbished on their farm and placed near the Ft drum Army base. That bus started the JRECK corporation that still exists today! The Navarro's relocated to Auburn NY in 1970. Beverly finally retired 1992 from teaching music at Herman Elementary Auburn NY. She was thrilled to have, as her end of life, visiting doctor, Dr. Brenda (Bove) Baratta. Dr. Baratta was one of her Seward middle school math students, of whom she clearly remembered having a 102% average! She taught piano, played piano, at the Springfield Inn(Auburn NY) and the Sherwood Inn (Skaneateles NY) for many years, and was involve in the Auburn Carrousel Theatre. She often held three to five jobs consistently, to support her children's avid athletic endeavors. Seeing her six kids participate in sports, (often at the same time-different sports), was one of her greatest joys. She set the bar for her forerunner children, as the first female life guard at Charlotte beach, Rochester NY. All six of her children were Auburn High athletic letter winners and several received Athletic scholarships. Beverly taught thousands of people throughout her lifetime how to sing, play piano, bridge, math, and especially, till her last breaths, grammar! She was a certified Masters level bridge player. She loved to entertain her family, and daily played at dinner time for her neighbors at The Gables of Brighton. She received a personal voice, violin, and piano concert, by the precious Lee family, a day before her death. Her final days were filled with many cherished ones coming to her bedside speaking words of appreciation and love. Finally, most importantly, was her faith in God, from which all of her children founded their variations of beliefs. She has finished her race. "Well done good and faithful servant." (Matt 25:23) The burial service will be held at 3:00 PM, Friday, February 7th, 2020, at Whitehaven Memorial Park Chapel, 210 Marsh Rd., Pittsford, NY. Following the burial, at 5:00 PM, there will be a "Celebration of Life" service at Henrietta Christian Fellowship, 1085 Middle Rd, Rush NY 14543, with a pot luck meal to follow. If you are so led, please bring your Beverly stories to share, or place a memory on mertonkaysfuneralhome.com Or Bezanillafh.com. Memorial donations can be received through Henrietta Christian Fellowship, PO Box 282, Fairport, NY 14450.
To send flowers to the family or plant a tree in memory of Beverly Powers, please visit Tribute Store
Memorial Service
5:00 pm
Friday, February 7, 2020
Henrietta Christian Fellowship
1085 Middle Road
Rush, New York, United States
Share Your Memory of
Beverly
Who We Are:

Merton H. Kays Funeral Home maintained its grand and spacious home like environment that so many families appreciate. While keeping with its historic features the funeral home is a very large facility offering families the space they need while ensuring the costs to families is kept competitive or below other funeral homes in the surrounding area.

Our Location:

Merton H Kays Funeral Home, Inc.
59 Monroe Street
Honeoye Falls, NY, 14472
Phone: (585) 624-1120
Fax: (585) 624-3228​

Mark A. Stephens, Funeral Director and Owner